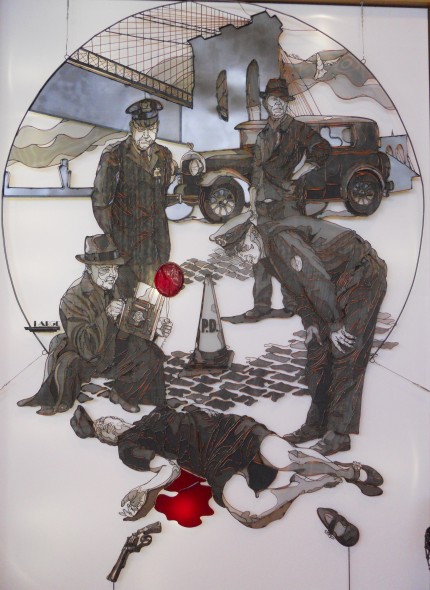 **Click to enlarge.**
"Crime Wave" is my entry into ArtPrize 2012. "Crime Wave" is a stylized 1940′s-era depiction of the scene of a crime. The scene is nested beneath the foreboding silhouette of the Brooklyn Bridge and has a cast of 5 characters. One character is the victim of the crime, two are uniformed Police Officers, another character is a paparazzo, and finally the last character is a plain-clothed man. They are all in the process of investigating the death of a beautiful young lady.
This contemporary, stylized, graphic piece is 13 feet tall by 9 feet wide by 3/8 of an inch in depth. It is meticulously welded out of thousands upon thousands of steel rods of different diameters in a gestural drawing style and is layered with many thicknesses of metal screen to create an optical illusion of depth and tonal values. It gives the appearance of a floating drawing or a dreamy view into a bygone era.