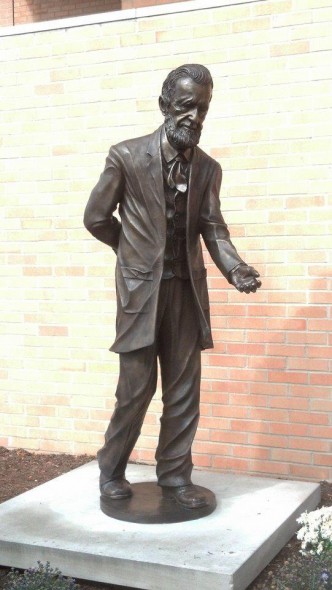 I had another really great unveiling yesterday in Ann Arbor, Michigan at Thomas M. Cooley Law School! This was the fourth figure of  Thomas Cooley for their fourth and last campus in Michigan. There's a possibility that they'll want another casting for their new campus in Tampa Bay, Florida, which I think would be great for uniformity's sake.
Speeches were made by President and Dean Don LeDuc, Jim Robb, Professor Marjie Gell, and myself. All were great, but Marjie's really stood out. She never gives the same speech twice and this time she told a story that I thought was very poignant. It was about the personal life of Thomas Cooley and his character. The short version of the story went like this. Thomas had a close friend with a son. That boy really wanted to be an artist. I'm assuming that the boy was 10 or 11 years old. Cooley's friend asked him to come visit the boy and try to talk him out of being an artist. Well, Cooley showed up, but he had a present for the man's son. It was an art book! Apparently, Thomas Cooley saw the value in other endeavors other than the law and encouraged this boy to explore his goals. I thought that was great.
Anyway, the sculpture was placed in front of a great building designed by Dow, a student of Frank Lloyd Wright. As you can imagine, the building has a great feel, inside and out, and has a ton of horizontal lines. A perfect place to exhibit this piece.
Anyway, thanks to all the people at Thomas M. Cooley Law School that made this project possible.